AI has revolutionized many industries and changed the way they operate and perform. One such field that's being flourishing due to AI and Data science is marketing. With powerful techniques and analytics tools, various marketing operations are automated resulting in more productivity. 
With marketing automation, digital marketers are able to run massive campaigns and make quick decisions based on the market situation. Automation allows digital marketers to advertise that are both cost-effective and saves time. However, you need data science in order to pull the juice out of your campaigns. You can learn it through various Data Science Certification and implement the skills in marketing projects. 
Today, marketers are collecting tons of structured and unstructured data from different sources like social media, keyword search tools, cookies, sales departments, advertising platforms, keyword planners, web analytics, mobile apps, wearables, email lists, and more. These data sources tell a lot about customer behavior and help them create effective campaigns and targeted advertisements. 
Marketers use data science and AI applications to crunch this data, find meaningful information, and automate the process to save time and money. If you're a marketer or learning digital marketing, you must be using data science at some point in your career. With this market basket analysis project video, you will get practical expertise on Data Science Applications.
So, let's go through some tips which will help you improve your AI marketing automation and produce better results. 
7 Tips for AI Marketing Automation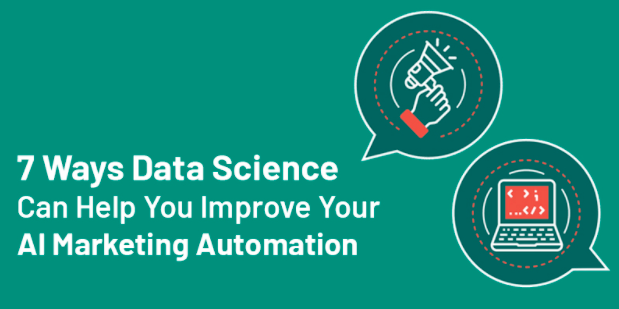 Dynamic website Optimization
Instead of a simple layout with standard features, customers nowadays like to customize and personalize the website or app interface at certain levels. Companies hire web designers and UI designers to ensure that their customers get a better experience. The only trouble they face while designing the perfect UI is the lack of data about the person. 
For this, marketers have to pull as much information as possible and identify the features that will most likely appeal to them. However, it's not possible to collect data for all the users and analyze it manually. You need to automate this process if you want satisfying results in the given time. You can use data science concepts like predictive analytics, and regression models to automate the process and group customers with similar choices. 
Lead scoring refers to the methods used by marketing and sales professionals to determine potential customers and check the worthiness of their leads. After attaching a value to these leads, it becomes easier for the teams to sort and relate customer's interest in their products and services. 
Lead scoring is a crucial aspect that may prove to be a disaster if you don't do it carefully. It's a complex process that requires you to consider a lot of parameters. Therefore, it's necessary to automate such a process and have consistent results in every cycle. Data science enables you to add multiple parameters and provide accurate scores upon automation. You can easily learn how to lead and score your customer through Artificial Intelligence Tutorial and move forward with a solid value proposition. 
Lead Nurturing, on the other hand, is a process of developing better relationships and communication with the customers at every stage of the sales funnel. It's not easy to find the right product, content, and messages those people need and deliver that at the exact moment when they need it without losing them. 
But, once you know what's the best marketing strategy for lead nurturing, you can automate the process and more features like split testing and trigger emails. However, you still don't know how your customers would react to different changes in the website or application. And here is when data science comes in handy. It allows you to take a number of different factors into account and predict how customers will react. 
Generating leads and turning them into customers is hard, but making that customers come on your website and buy your product is even harder. Especially, when there is cut-throat competition in the market and you can't afford a single mistake. Here, social media retargeting helps you make the right plan for reaching your customers, do word-to-mouth marketing, and encourage brand loyalty. 
Social media is the best platform where you can find a lot of information about the customers, their behavior, likes and dislikes, whom they follow, and more. With data science, you can automate the process for retargeting your customers and find new approaches to get effective results every time. You can also find new products that the customer might like, instead of hammering the same things which he already rejected. 
Ad bidding is yet another application that shows how data science can change marketing automation. It helps you deliver the right ads to the right users at the right time. You can place these ads based on a number of factors like the user's location, profile, used hashtags, search history, buying pattern, etc. Automate the process and combine it with data science models, you have the perfect solution that saves both your time and resources. 
The above points make it obvious that you cannot take the one-size-fits-all approach in digital marketing. You have to group your customers based on their choices, behavior, search pattern, and more. With AI and data science in hands, customer segmentation can be done at a much higher level, it's known as micro-customer segmentation. 
Digital marketers use concepts like data modeling, K-means clustering, and cluster analysis to group the customers based on common traits and use them effectively. 
Last but not least, recommendation engines are the best example of how data science powerful can be integrated into marketing automation. The biggest example of this is Google's recommendation engine. Using website cookies and log files, you can keep a track of user activities. By analyzing the historical data, you can understand the user choices and suggest relevant products. 
Conclusion
Automation allows you to get better results from the efforts you put in and scale up the process, provided your actions are in the right direction. That's why integrating data science models into AI marketing automation will mitigate the risks and speed this up, because you cannot afford mistakes in this competitive market.