Want to try your luck opening stashes with some unknown treasures? Want to risk and get something valuable with the least possible investment and almost no effort? DrakeMall Mystery Box Shop is the best place for this, making microtransactions not enraging useless scam but really rewarding thing, what will make every gamer or geek all around the globe happy.
DrakeMall is a one-of-a-kind innovative e-commerce real-life loot box marketplace. Created all around popular microtransactions mechanics that are monetising lots of games nowadays, DrakeMall is letting everyone make crates and its rewards real. As you can see it popular games user need to just pick a case with interesting products and open it for a little price that gives the chance to win something good.

Why DrakeMall is not a fake?
Everyone who is visiting DrakeMall mystery box website at a very first time think that it's a fake. But, no, of course, it's not. DrakeMall is 100% legit and is run by a Esports Kingdom LP for more than 3 years. Company is based in Dublin, Republic of Ireland and known almost in any country worldwide: from North America and Europe to Asia (mostly Malaysia).
Furthermore, everyone can watch a vast number of DrakeMall customers' unboxing videos on DrakeMall user unboxing page or any of social networks like YouTube, Discord Facebook, Instagram, WeChat and all others.

For example, in official Discord channel you can find big amount of user unboxing photos and videos like the one below.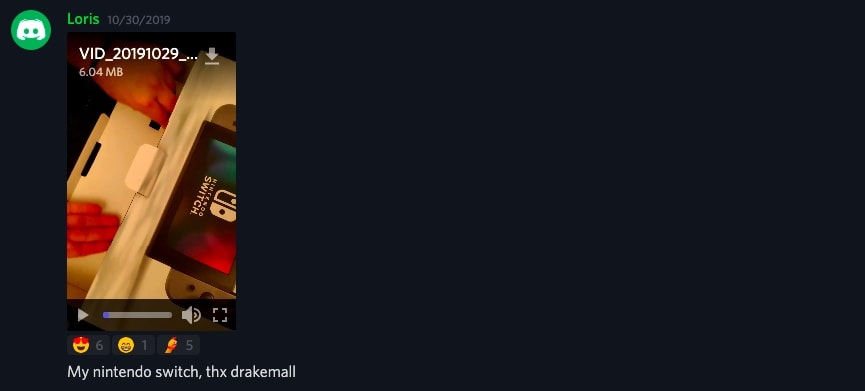 Adding more to that, there are video reviews from popular gaming streamers, stating that DrakeMall is really legit. That's the greatest thing because DrakeMall's online mystery box marketplace is based on a loot box basis that's a center of a hatred amongst gamers and geeks. You can even see a lot of videos of DrakeMall website testing for honest mechanics, losing and winning rates, shipment quality and all other pros and cons.
How mystery box marketplace actually works?
As it was stated before, DrakeMall is a mystery box e-shop that is based around loot box mechanics that ironically became modern classics in a lots of video games. But there is a difference between lootboxes in a video games and real lootboxes on Drakemall.com. This difference is hidden in clarity. If you want to open stash, you can see what can be inside, see a winning rate of each prize and even see the value of each prize to compare with your bet. As said before, you can even check proofs by other users that received this item.
To start testing your luck with online surprise boxes you should simply sign up at Drakemall.com using Facebook account or via classic e-mail registration, filling all necessary info. After that you'll need to fill up your personal DrakeMall Wallet via credit card, PayPal or using a GAMIVO gift cards. By the way on the website you can find way more deposit methods, including local banks in Thailand, Malaysia and other countries. And that's all, you can test your luck and win one of awesome prizes.
To start winning one of guaranteed prizes from mystery chests on Drake Mall you should choose one of a vast variety of loot boxes, suitable for almost everyone, from beauty princess or pro gamer to comics geek or football fan. Or, if you don't want to play your luck and just get what you want, you can just buy every item in every box without opening it. Every prize you've won is stored in your own vault, from where you can not only process it's delivery, but even sell items you don't need for a full price!

For more demanding users there also King of the Box and Case Battles features.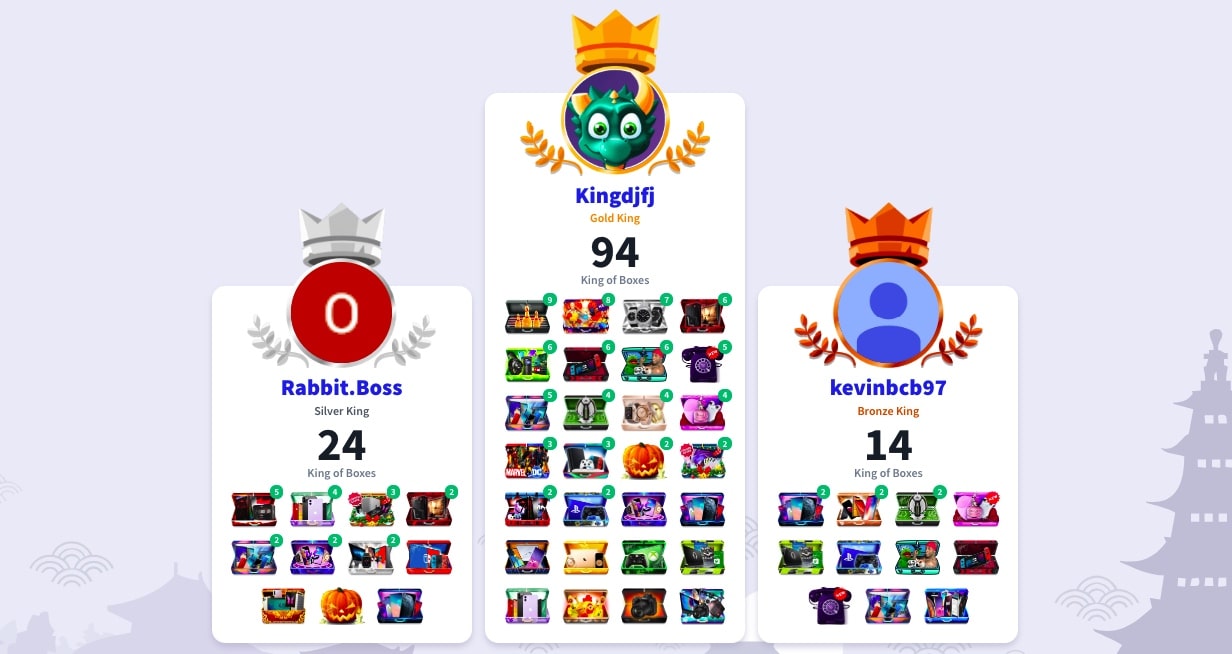 In "Kings" users are getting guaranteed prizes every week: each box has a "King of the Box" prize every week, that can be seen on the box page. A user, that opens this box the most times wins this item. 
Case battles, or site's interpretation "Mystery Battles" is something that you can find on CS:GO open case websites. Here users can battle with each other by opening mystery boxes online together in something like "multiplayer" mode that supports up to 6 players opening up to 100 cases at the same time! The player that won prizes with biggest cost sum wins all prizes from other players.
What mystery boxes are available to open?
DrakeMall obviously has a lot of different Mystery Boxes that contain many of popular and expensive things that you can win.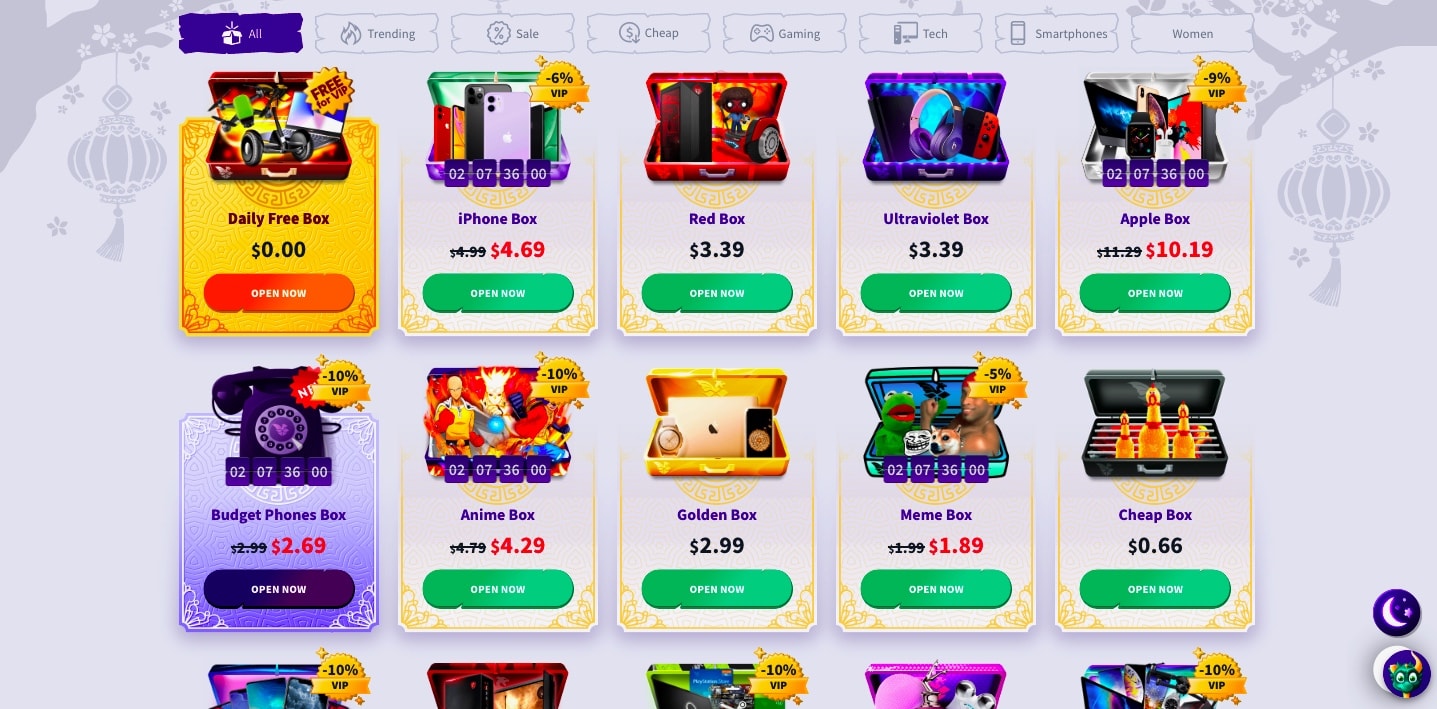 As an example, by opening an iPhone mystery box you can win an Apple iPhone 11 Pro Max. Furthermore, by opening Apple Box you can get even an Mac Pro 2019 desktop. 
Console Box contains some awesome things like PlayStation 4 Pro, Xbox One X and Nintendo Switch. Hooking up gamers even more, DrakeMall has PC Master Race Box that contains Acer Predator Orion 9000 desktop and an Dell Alienware Area 51m gaming notebook, but also has a brand new 32-core 64-thread AMD Ryzen Threadripper 2990WX processor.
Speaking of not only gamers and tech geeks, you can open Rockstar Box to win Fender Player Precision Bass guitar or Alesis Strike drum kit. Or, if you're eager for fashion items, you can try Hype Shoes Box for Nike x Fear of God Air Shoot Around sneakers. There are even a Beauty Box for winning cosmetics and styling gadgets like DRx SpectraLite FaceWare Pro facial LED therapy gear.
Is DrakeMall secure? – Registration and validation
DrakeMall is not only secure in terms of personal data and user information protection, but also maintains a variety of measures to ensure that all website users are mature (over 18 y.o.). Website is using KYC customer monitoring system with a support of Shufti Pro identity verification service. So given account data is safe with all those measures used to keep all credentials secured, as well as keep all underaged users off the service.
Drake Mall surprise box site advantages
It is obvious to state that Drake Mall is the one of the best and interesting e-commerce project by all means these days. It's easy to register on a website to start opening loot boxes with a real and, most important, valuable prizes. Where else you can get a brand new iPhone 11 Pro, Alienware laptop or unique Nike sneakers for cheap? But anyway, you should understand that this is not a 100% opportunity to get what you desire, treat with it responsibly.