When you are using any of the Mac devices such as iMac, MacBook, Mac Pro or Mac Mini, you may assume that there is no need to install any antivirus program, which is incorrect. Although it is true that Mac has strong protection against viruses and other suspicious websites, but it is prone to infections and malware attacks.
The Windows system is more affected by these viruses than Mac. As Macs are based on Apple's file quarantine and have good malware checking abilities, it prevents the downloading of infected files and folders. Malware detection has been introduced in Mac with the introduction of Snow Leopard.
You should be upgrading your Mac with operating updates as and when required.
With Bitdefender antivirus for Mac, Malware detection is based on the same principle as with Bitdefender's Windows antivirus programs, Code signing certificates check the legitimacy of the sites and protect Mac from potential threats.
When you try opening any suspicious content, a window will pop-up indicating the potential for harm. Thus, Bitdefender is equally efficient in protecting your Mac devices as it is in protecting your Windows or Android devices.
Features of Bitdefender
Here are some of the top features of Bitdefender antivirus for Mac:
It provides absolute protection to your Mac device (iMac, MacBook, Mac Pro or Mac Mini) from potential threats
It protects you from ransomware by offering multi-layer security
It provides you secure online experience by blocking the downloading of malicious websites and also removing the infected files from your Mac
It works with maximum speed in the background and is a good performer for your Mac OS
It does provide real-time protection based on cloud technology
Keeping Mac secure with Bitdefender
Bitdefender protects your Mac in a number of ways.
When you install the software, it accepts for Safe file ransomware protection, which allows the backup of files in Time Machine, so in case your files get corrupted, you can take the backup of those files from Time Machine backups.
It also features TrafficLight protection, which identifies potentially dangerous websites and prevents them from loading. One should always turn-on Bitdefender in autopilot mode. Bitdefender works in the background by preventing potential threats and viruses from infecting your Mac device. The software works with minimum interaction with the user in autopilot mode and does its job efficiently.
If you switch off the autopilot mode, the protection layer is switched off.
If you are using an older version of Mac, then you definitely need an antivirus software to keep the system protected from virus and malware.
Malware Protection Scores
According to a test conducted by AV-Comparatives, Bitdefender has been quite successful in keeping Mac computers protected against any kind of malware. Mac can be a carrier of malware attacks, but Bitdefender was very successful in detecting any malware and the results were more than 90%.
Bitdefender for Mac has been certified by AV-Comparatives and AV-Test Institute for antivirus protection, where they have achieved 100% protection in a lab test.
There were no false positives or incorrect detections. Bitdefender was also checked for PUAs (Potentially Unwanted Applications) and against Windows malware. The lab score again was more than 99 %.
Windows Malware Protection
Unlike other software such as ESET, Intego, Trend Micro Antivirus for Mac etc., which test in a defined schedule, Bitdefender provides real-time protection and catches any threat or ransomware immediately.
You should perform a full Mac scan as soon as Bitdefender is installed in your Mac, so any kind of threat is removed from your Mac permanently. Bitdefender takes about 18 mins to scan your Mac completely unlike other competitor products which take more time in completing Mac scan for antivirus.
Phishing Protection
Once the internet sites are marked as dangerous, Bitdefender will never allow access to these websites on your Mac.
The macOS version functions as a browser extension in Chrome and Firefox.
TrafficLight
This is an excellent and remarkable feature of Bitdefender, which blocks fake and dangerous websites with the help of green and red icons. Red is the sign of danger and you should keep away from such sites at all times.
Ransomware Protection
Ransomware protection is quite important these days, as fraudsters take note of your important credentials and perform online frauds.
Bitdefender has ransomware protection, which limits the access to files and folders that are affected by ransomware.
Ransomware attacks can target those files and personal folders that carry your sensitive information. Moreover, Bitdefender's Safe Files feature protects all your documents from such Ransomware.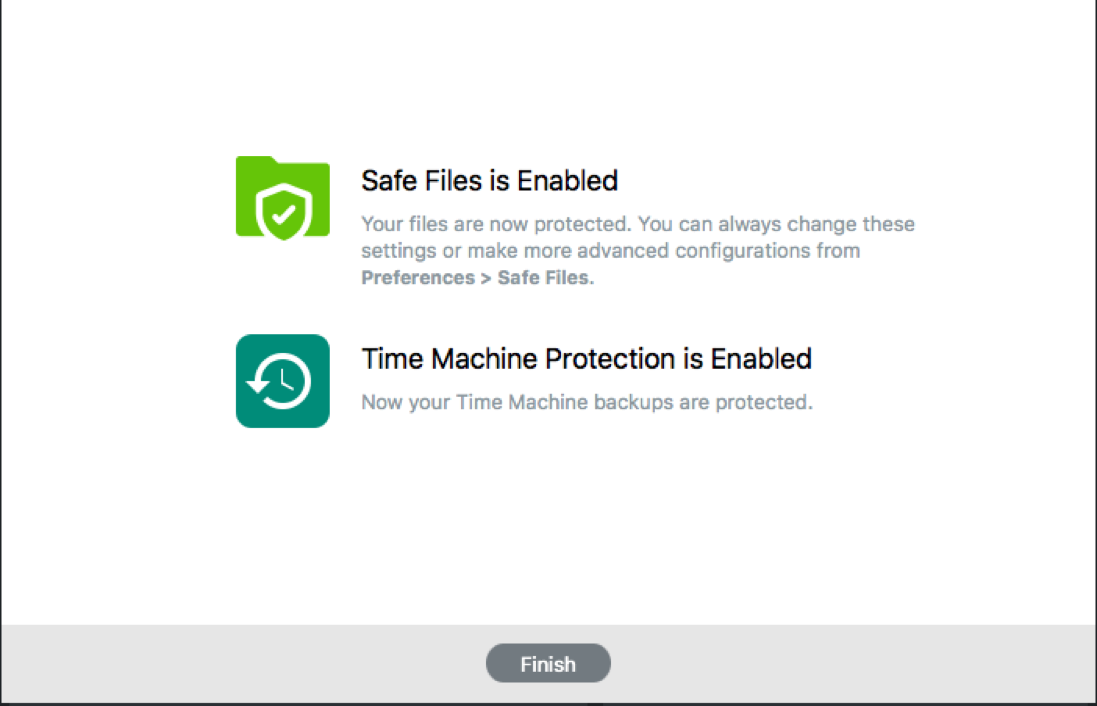 When you are a regular user of certain websites and applications, you can list them as trusted sources. Once it is listed as trusted, any changes or modifications done in these programs will pop-up immediately.
Apart from the listed trusted sites, you can leave the job to Bitdefender to block all kinds of unwanted and suspicious sites. Mac's time machine does the regular backup of your files, and there is a chance that the ransomware files could also be restored from the time machine.
This is where Bitdefender comes into action and prevents unauthorized access to Time Machine files.
A compatible version of Mac for Bitdefender
Bitdefender Antivirus for Mac can be installed only on Intel-based Macintosh computers with OS X Mavericks (10.9.5), OS X Yosemite (10.10 or later), OS X El Capitan (10.11), macOS Sierra (10.12) and macOS 10.13 High Sierra.
Additionally, your Mac should have the following features as well:
Minimum 1 GB of RAM Memory
Minimum 400 MB available hard disk space
High-speed internet connection to download, register and update the software time to time
Traffic Light feature is available only for browsers such as Safari, Firefox, and Google Chrome
Once your Mac is compatible and has all the above-mentioned features, just download the antivirus software, login or sign up for your Bitdefender account and protect your Mac.