WhatsApp is a well-established brand for Messaging, Voice Calls, and Video Calls. Recently, I wrote an article on the WhatsApp Conference Calls. This time lets take a look at the WhatsApp Payments.
WhatsApp Payments-Send and Receive Payments




According to sources, WhatsApp will be incorporating UPI, Digital UPI System. This will help the user to send and receive payments from person to person.
Brian Acton, co founder of WhatsApp, gave us hint that WhatsApp is in the early stages of Payment Testing. And shall launch WhatsApp Payments soon in a time span of 6 months.
Also Check: WhatsApp Assistant
WhatsApp payment will be the first digital payment service from WhatsApp.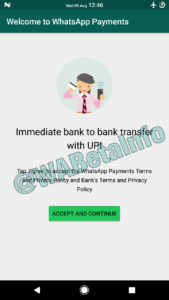 As of now, WhatsApp payment is in Beta Testing Phase. It is a hidden feature and soon it will be available for all the SmartPhone users.
Also Check: New look of WhatsApp
To start using WhatsApp Payments, you have to accept all the terms and conditions of the WhatsApp Payments.
What is your opinion of WhatsApp Payments?
Will it be beneficial?
Share your thoughts and opinions on WhatsApp Payment system in the comments down below.
Also Check: Buy Facebook Page Likes
Also, subscribe to my blog to receive latest tweaks on Gadgets & Technology.
Source: WABeta