How is it possible for a photo and video sharing platform to have no reasonable features for downloading photos and videos online? 
Sadly, there's none of that, and we have to use an Instagram Video Downloader to save our favorite videos on our devices to avoid any headaches later.
Why Would You Download a Video
As we stated above, Instagram is a massive platform with almost more than 1 billion monthly active users, and we can't even comprehend how many images and videos are uploaded on the platform daily; to be exact: it is sitting close to a whopping 60 million visuals per day!
Let that number sink in for a moment. 
Even if we had the fastest internet connection that we can imagine and an instant way of processing different things, it would still take a thousand years for us humans to download all the visuals on Instagram.
However, we are still bound to our little and finite world, and we have to use its fruits to fulfill our expectancies for cultural, intellectual needs.
There's so much you can learn on the internet, and even on Instagram. There are recipes, how-to's, some little tricks about daily life, and more. Thus, it's possible that you'd never get enough of learning on this platform as it's a learner's heaven. 
Being Cautious
It is a good idea to download your favorite videos and enjoy them later in solitude; nevertheless, you should always be careful it's guaranteed that some people will try to use this fantastic feature for their malicious intentions.
First and foremost, you should always second-guess the kindness and generosity of a service that asks for your password and personal information. This is something we see quite common in the industry. 
A proper tool shouldn't need your password or sensitive data to function. You should provide the URL directing to the video only, and that should be enough for the most part for you to download a video.
In this instance, it's always a no-no for services that provide a so-called free trial for a while, only for gaining the right amount of time to let you forget about it and charge big bucks just right after.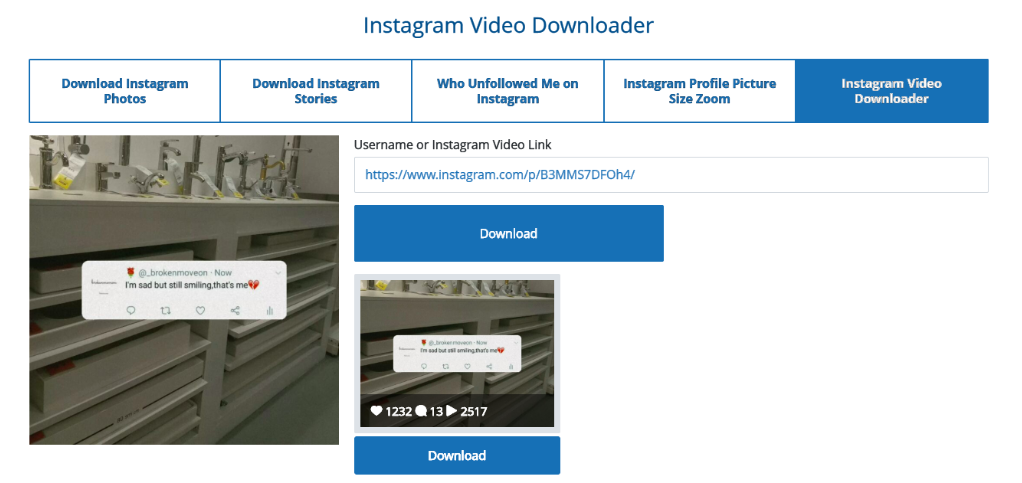 How to Use an Instagram Video Downloader
If you want to download videos online from YouTube, you must use an external video downloader on the web or a third-party app. 
For this instance, we decided to try a website claiming to provide this service, and we linked it above in our introduction for our readers to benefit.
Please note that it is currently not possible to download videos or images from private accounts as you need a valid URL directing to the content you want to save on your device.
To start the process, simply click or tap on the link in the first paragraph and open the service.

Now, go to Instagram on another tab or in-app to select a video to download.

When you select a video from a public account, you can simply copy its URL to your clipboard to continue.

You should see a field labeled as "Username or Instagram Video Link" when you return to the video downloader's tab.

Simply paste the URL of the video to the designated area.

After that, you can tap or click on the download button.

A security check (reCAPTCHA) will appear on the screen, simply follow the instructions to proceed.

After that, the thumbnail of the selected video will appear right below. From there, you can view the interaction it received and tap on the download button again beneath.

Congratulations! You successfully saved a video from Instagram on your device.
With a simple process like this, it will be bread and butter for you to download your favorite videos without hassling with surveys and ads.
Conclusion
It's entirely reasonable for people to store their favorite stuff, and we'd encourage users who want to do so. Nothing is better than being able to kick back and watch some meme compilations.
However, it's also understandable that Instagram doesn't allow users to download stuff in-app as they rely on ads to support the platform. If they allowed us to save these videos, the percentage of people using Instagram would drop like flies, and we'd miss out this fantastic platform.
Therefore, we should be thankful that there's Instagram, always there for us when we feel down. Nevertheless, it's still an excellent idea to enjoy your favorite videos offline by saving them on your device. Chances are nothing will happen as nobody got sued by these types of companies.
Do you download Instagram videos, or you visit the app occasionally to catch up with your favorite influencers? Let us know right down in the comments.
Thanks for reading this article.