10 Tips to Make Your WhatsApp Experience Easier
Nowadays, it is almost impossible to imagine one's life without chatting. WhatsApp is one of the most common apps that makes it possible to stay connected with friends at any time. Moreover, many services such as UK Essay use WhatsApp as a way of communicating with clients that is extremely convenient. This app has many possibilities that are not commonly known but can make the communication through it more comfortable and funnier.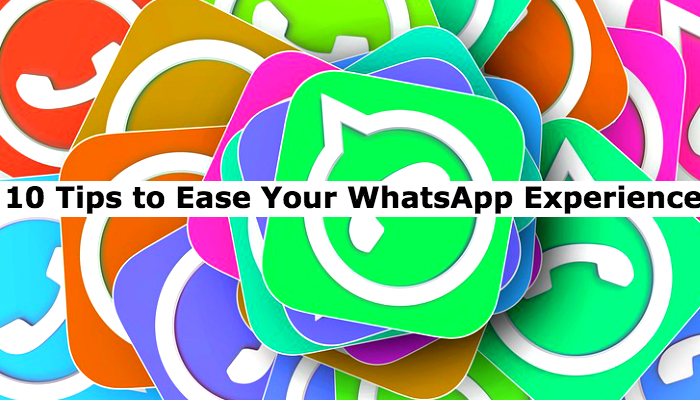 You can be invisible. If you need to get rid of the proofs that you have already read the message, all you have to do is to change some account settings. Open the settings, go to an account, press the privacy, and clear the tick box for read receipts. But, do not use very often because it makes you suspicious. Before opening untrustworthy chat without being noticed, switch on the flying mode. Thus, you can read any messages without undesired notifications. Go out from the chat before turning the flying mode off and the sender will never find out that you were there.

Keep your visits to WhatsApp in secret. If you do not want to let everybody know when you visited the app last time, proper settings in privacy will help you with that. You can choose who can see the last time you were active, by changing the last seen option.

Deleted messages are not so big deal. Even if the message was deleted, you can restore it unless you do not have chat backup switched off. Go to chats and choose the frequency of your chat back up.

Quoting messages is easier than attaching the screenshots or retelling what do you mean. To do it, choose the message needed and push the left arrow on the pop-out menu on the top. Then write your message and send it.

You can make your text in italics, strikethrough or bold. You need to use relevant buttons' combination to highlight the word or phrase. To make it in bold, type asterisk (*) on both sides; to write it in italics, apply underscore (_); to make your text strikethrough, use the tilde (~).

Hide the notification from the particular chats. If you have a chat that never remains silent, choose the name of the chat, push mute notifications for, and clear the tick box for show notifications. Now, you do not have to listen to all irritating non-stop notifications from it without leaving that chat.

Deactivate saving photos from WhatsApp to gallery in your smartphone. For Android, open file manager, go to WhatsApp, media, WhatsApp pictures, and create a file with the name ".nomedia". Thus, you will not overload your gallery with everything you have in WhatsApp.

Save the memory of your smartphone by getting rid of unnecessary WhatsApp files. When someone sends you some pictures, audio or video, your device automatically downloads them. It is up to you to change the files you need to be downloaded. To choose the download method, go to settings, data and storage usage, and make relevant settings in media auto-download.

A role for the WhatsApp contact. You can save the shortcuts of your friends' contacts right on your home screen. Just press the chat needed and add chat shortcut from the menu. Communicate with your favorite contacts without looking them in your contact list.

Make a broadcast in your WhatsApp. If you want the bunch of people to get one message, it is not necessary to create a group chat. You can as well choose "new broadcast" and send that message without collective chatting room.
Also See:

Insta ++ APK
In conclusion, FM WhatsApp v7.50 is a fantastic way to communicate. It offers a wide range of possibilities so each user can shape it in its own image. Private and group chats, broadcasts, personal and group calls. Use it, and you will not face any problems with connecting to your friends, colleagues, or services.