Google Account Manager APK Download: If you are looking for the latest and old versions of Google account manager then you are at the right place. In this article, I present you an easy guide on how to download and use google account manager.
What is Google Account Manager?
It is very important to have the Google Account Manager APK. It helps you to erase the FRP Lock(Factory Reset Protection Lock) on your phone.  Many people find difficulty with FRP locked device. They face an error when you enter google account and its password. All the google account errors can be fixed with the Google Account Manager. And also you can unbrick the dead FRP locked Smartphone. Basically, you can bypass the google account from your Android Phones.
Significance:
There is no denying the fact that Android is one of the most popular operating systems for smartphones.  You can download the latest version of Google Account Manager from Nougat. Google Account Manager File is developed by Google LLC. The latest version of the Google Account Manager is 9.0 and its file size is 7.9 MB.
Supported Smartphones & Tablets:
Google Account Manager is compatible with various types of smartphone and tablets. Google Account Manager supports the following models and version of smartphones and tablets:
All variants of Google Nexus
All variants of Google Pixel Phones
LG smartphone and tablets
HTC smartphones and tablets
Samsung Galaxy smartphone that includes Samsung C9, Samsung Galaxy S4/S5/S6/S7/S8/Edge, Samsung Galaxy J7 Prime, Samsung J7 2017, Samsung On5, On6, On7, On8, On9, Samsung Galaxy A5, A6, A7, A8, A9, Samsung C7, Samsung C9 Pro
Sony Xperia smartphone
Huawei smartphones and tablets
Alcatel smartphones and tablets
Motorola smartphones and tablets
Benefits:
Google Account Manager is highly used across the world for various purposes. Some of the vital benefits that Google Account Manager provides are pointed out as follows:
This application is very helpful in erasing the FRP lock of a smartphone. FRP stands for Factory Reset Protection. It is true that Factory Reset Protection (FRP) Lock plays a great role in keeping the data safe in case the phone is stolen or lost but sometimes it becomes necessary to erase the FRP lock. In such case, you need to take the help of Factory Reset Protection (FRP) Lock.
This app also plays a vital role in un-bricking the dead Factory Reset Protection (FRP) Lock in a smartphone. It also helps in bypassing the Google account from the Android smartphones.
Many people in the world find it difficult when entering the Google account and password. But with Google Account Manager, you do not now have to worry about even in case you are not being able to set the Google account and face an error. What you need to do in such case is to use Google Account Manager. Google Account Manager can solve the problem in a minute.
When you have this application, you don't need

android multi tools

for your smartphone.
Also Check Out: ExamSnap to Pass Your Next IT Certification Exam Fast!
Steps to Download and Use Google Account Manager APK on your Android Phone:
It is not too difficult to download Google Account Manager. The following steps provide an easy procedure for downloading and using Google Account Manager on the Android smartphone:
First, you need to download Google Account Manager APK in the Android smartphone from the downloading area of the smartphone
Now it is necessary to turn on the unknown source so that your smartphone allows you to download the APK file from the unknown source. For doing that all you need to do is to the Setting option of your smartphone and once the Setting screen is opened the tap on the Security option. Then you need to enable the unknown source.
When the unknown source will be enabled it becomes possible to download anything from any source. Thus, for security reason, this option generally remains disabled for so that nobody can download anything from any unknown or malicious sites and it keeps the smartphone safe.
Install the downloaded google account apk.
Once you click on the Install button, instruction will be provided and you need to follow the instruction one by one and proceed with the installation. When the installation will be completed a message will be shown indicating that the installation is completed.
Now proceed with the instructions on your smartphone and you are done.
When the installation of Google Account Manager APK will be completed it will become possible for you to bypass Factory Reset Protection (FRP) Lock on any kind of Android mobile phone. If you have a Samsung Galaxy Phone then use the Samsung Bypass Google Verify APK.
Google Account Manager Download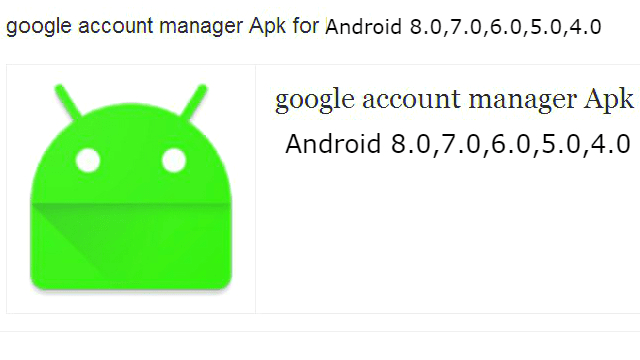 ANDROID P 9.0 PIE GOOGLE ACCOUNT MANAGER
ANDROID 0 8.0 OREO GOOGLE ACCOUNT MANAGER
ANDROID N 7.0 NOUGAT GOOGLE ACCOUNT MANAGER
ANDROID M 6.0 MARSHMALLOW GOOGLE ACCOUNT MANAGER
ANDROID L 5.0 LOLLIPOP GOOGLE ACCOUNT MANAGER
ANDROID K 4.0 KITKAT GOOGLE ACCOUNT MANAGER
Also Check: Nokia Firmware Downloader
What is the main function of the Google Account Manager?
Google Account Manager is highly used in Android smartphone for the purpose of verification. It is very important for the user to create an account so that it becomes possible for him to access all the features of a smartphone. Creating an account also help the user to work properly with the smartphone.  It should be noted that all account that a user made on Android smartphone is mainly managed by Google Account Manager. Thus in one word you can say that without Google Account Manager you will not be able to access any features of your smartphone.
When a user buys an Android smartphone for the first time you may have observed that he needs to fill up some forms and have to provide various details such as his email account, phone number, password, etc. All these are required for synchronizing and verification and al these are managed by Google Account Manager. Several version of Android is released till today but whenever you buy the new Android smartphone it is advisable to check the compatibility between Google Account Manager and the Android version.
Again you must have observed that when a user needs to open the app and work with it most of the time he has to provide the email id and password. This email id and password are required for the verification purpose. Once the password is given it is internally verified whether the authenticated user is accessing the app or not. Once it is verified then only the user will be able to access the app. Generally, it is seen that user use a single account for a single smartphone but in the new version of smartphone users are allowed to add optional account. This has only become possible due to the Google Account Manager. The function of Google Account Manager is to synchronize all the account that user had given and put them to work properly on the smartphone.
Thus, it can be said that managing accounts are the main function of the Google Account Manager. Therefore, it can be rightly said that Google Account Manager is vital for any kind of Android smartphone.
Final Verdict:
I made this tutorial of Google Account Manager APK as easy as possible. If you face any errors like Google Account Manager Stopped Working or parasing error then "Google Account Manager APK" shall fix your issue. Download and enjoy Google Account APK.