The world is slowly transitioning to virtual space. From school to work, almost anything can be done at home with just an internet connection. But face-to-face activities still offer a few benefits that cannot be replicated online.
The solution that event organizers have found is to host hybrid events that combine live and virtual components. People can physically go to your event and enjoy the experience while still being accessible online for more reach.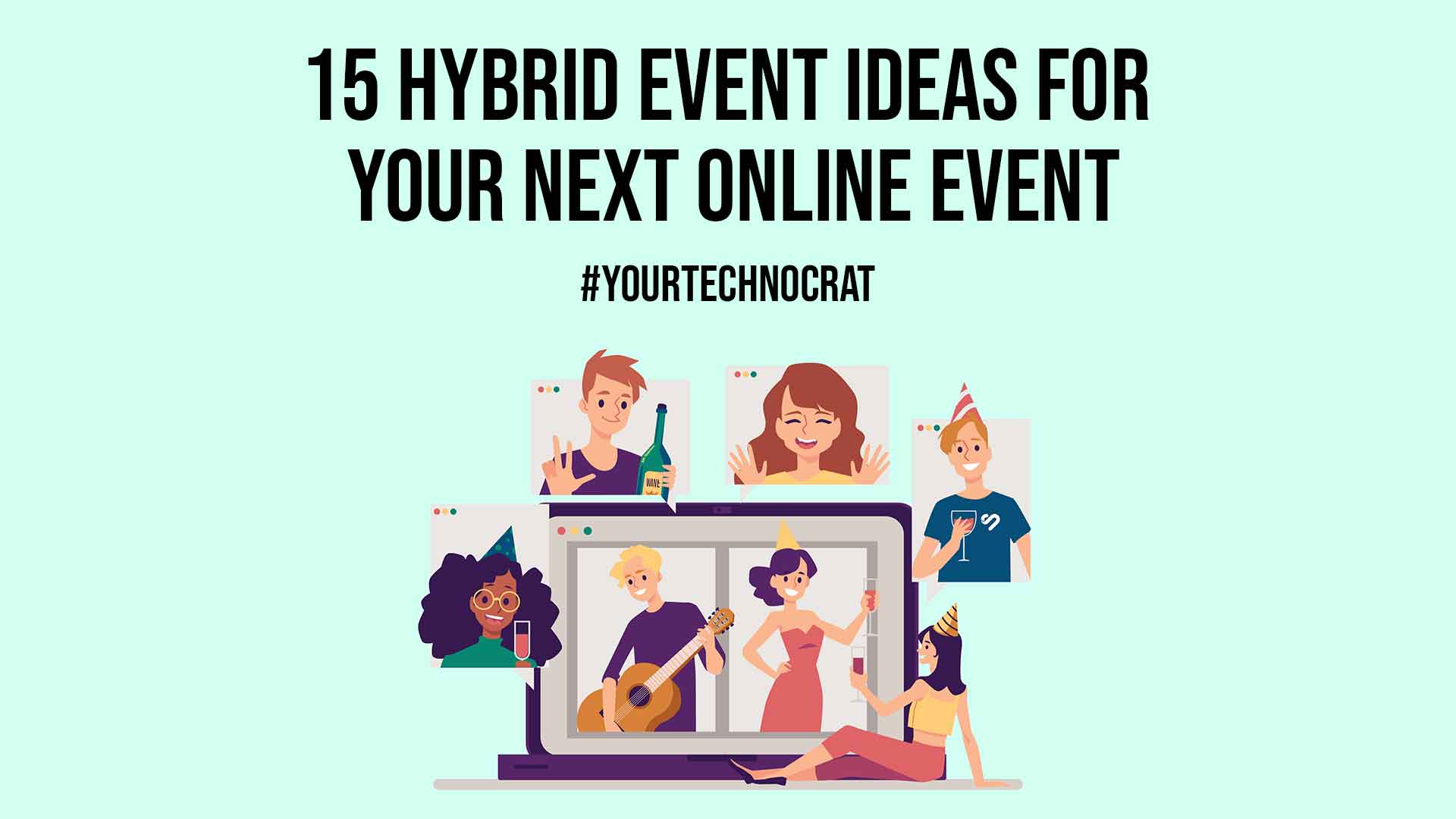 1. Q & A sessions
If you're hosting a webinar or similar event, you should dedicate a Q&A session so curious people can ask the things they want to know.
Since it's highly likely that both people present at the location and people accessing the event online will have questions. You can alternate between online and in-person questions. But since more people online might ask questions, you might want to create a separate schedule for each.
Also Read: What makes the internet the largest computer network?
2. Use a mobile event app
Event apps have proven to give a positive ROI when appropriately used. You can have fun little games in the mobile app that people can interact with while they're at your event.
3. Personalise tickets
You can personalize the ticket based on their ticket type. People with VIP tickets can have access to the physical venue and virtual event. Meanwhile, people can buy a cheaper ticket if they only want to access your event online.
4. Online tickets
You can also let people use their mobile phones as their tickets. One of the most common problems is the loss of a ticket, especially if it has been bought earlier. With a good hybrid event app, people no longer have to worry about such instances happening.
But if you don't want to create a mobile app for your event, you can still benefit from an online ticket. You can send a digital copy of the ticket to your attendees as soon as they sign up or register for your event.
5. Live Poll
People online have easier access to live polling during sessions. This is perhaps one of the biggest benefits of a hybrid event. You can ask your audience's opinions and increase engagement at the same time.
You can ask for polls from both the in-person and virtual members of your audience. If the poll is meant to be informational, you can easily project the results during the event. If the poll is for a contest, then you can create a countdown timer until the deadline of the poll.
6. Livestream
If you don't mind more people accessing your event online without buying a ticket, then you can live stream your event. This increases the reach of your event at no additional cost.
If you are confident that a lot of people will attend, you can even host your live stream on multiple platforms. This allows your online attendees to choose which website they go to if they want to visit your event online.
7. Donation pop-up
If you're hosting a fundraiser event, you can add a little spice to your live stream by adding a donation pop-up. This is an easy way of thanking people who contribute to your event. It can also encourage people to donate.
You can also add a simple pop-up that shows the top donors in the corner of the screen. This can be an added incentive for large donors.
To increase engagement and reach further, you can ask people to use hashtags to promote your event. It's nice to create one single hashtag that people can use when posting about your event on their social media accounts.
You can even host giveaways during the event using hashtags. You can pick the winners from the people who posted about your event. Be creative in asking your audience to participate. Don't just tell them to spam the hashtags, as it's less likely to trend.
9. Use QR codes
QR codes are becoming more and more popular because they make things much easier for their audience to access information during an event. You can add these QR codes in different places of your physical venue.
For example, if you're hosting a hybrid museum event, you can add QR codes at each display where people can access more information about the museum pieces online.
10. Hiring videographers
One of the biggest mistakes that new event organizers make during a hybrid event is failing to optimize your virtual event. Remember that it is just as important as your physical event. You can hire a video production company for a better experience for your online attendees.
However, if you are not an established organization and have limited resources, then you can opt to shoot the video yourself. You can even simply use a video camera on a tripod and focus it on the speaker.
11. Breakout sessions
A smaller audience means a more personal setting, which is the power of a breakout session. These separate streams could potentially be used for networking breaks or sponsored entertainment. Invite experts on relevant issues to spark the discussion so each breakout session can be facilitated properly.
12. Pre and post-event discussions
Allow a space where people can communicate with other attendees about the event you hosted. Aside from increased engagement, people can also talk to your event's guest speakers if they have further clarification after your event.
13. Pop-Up ad space
Online attendees are less likely to pay for your event, especially if they think that their money is not worth the virtual event. But you can still monetize them by offering ad space to sponsors. This can add more budget for your event and reach your target income if you have one.
14. Giveaway
It's no secret that people love receiving free stuff. By hosting giveaways, people are more likely to be engaged with your event. Purchase items that are relevant to your event and give them away as prizes for competitions.
Also Read: Effective Digital Marketing Efforts
15. Offer certifications
If you're hosting a webinar or online seminar, you can offer certifications to people who attended and completed the short course. This is much better if you have a guest speaker that is a well-renowned expert in the industry.