Control PS3 with Android: Android is the most popular platform in Smartphone Industry. Most of the smartphone users are using Android as its operating system. This is because there is no limit to the customisation in Android. In this article, I present you a very easy tutorial on how to control PS3 with Android.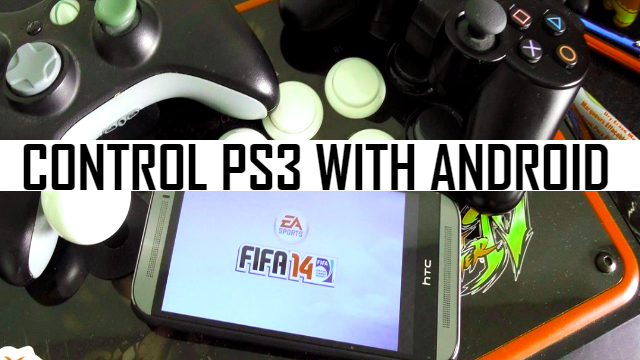 Controlling a PS3 using Android is really fun. People used the PlayStation 3 controller just for playing games. But the most enjoyable moment is to use a ps3 with Android and control the various signals with the help of joystick. For me, the hardest thing on the planet was to interface Playstation 3 with Android. It took me one month to do a research on this topic. And after all the efforts I was able to control ps3 with Phone.
The best feeling that you get is the feeling of pleasure when you perceive the output after all the struggle. So I thought of sharing my knowledge and method to control PS3 with Android Device without root.
Also Check: PS4 Emulator for Android
Why control PS3 with Android Phone?
You might have used PlayStation 3 controller only for playing games on PS3 Consoles. Is it not fun to play games on Android with PS3 Controller? This gives us the same pleasure as that of playing games on PS3 Consoles.
PS3 emulator is also available on Android. You can use PS3 Emulator for Android and play games with PS3 Controller.
Many subscribers asked me for Android PS3 Remote Play and hence I made this tutorial on how to control ps3 with phone.
"Remote Control PS3 from PC" is also possible. If you want me to make a tutorial on how to remote control ps3 from PC then let me know in the comments.
You can also play NDS on Android if you download best Nintendo DS Emulator for Android.
How to control PS3 Controller with Android?
The very first step is to turn on the Bluetooth on your Android Smartphone. And make sure that the Bluetooth is visible of your Android. I hope you know how to turn on the Bluetooth on your Android.
Now is the time to recognize your smartphone in the gaming console of PS3. To do so, go to Settings<<BlueTooth and click on Register. It starts scanning a new Bluetooth device.
The gaming console will generate a passcode that you need to enter in your smartphone. Once you enter that passcode, your smartphone will be paired with PlayStation 3 Console.
To pair PS3 with Android Device, download and install PS3 Controller App from here. 
Once you have successfully installed it, open the application. 
On the PS3 Controller app, click on "Start" as shown in the image below.
Grant all the necessary permissions when asked. 
It will connect PS3 Gaming Console and Smartphone using Bluetooth.
Also Check: IOS Emulator for Android and Automation Technology
Tech Tip: Connect your PS3 VR with a virtual desktop with powerful GPU to experience the thrilling gaming experience and access it remotely from anywhere on any device(PC/Mac/Android/iOS) with reliable desktop hosting service from www.CloudDesktopOnline.com. Visit Apps4Rent to know more about such hosted software products suitable for you.
Final Verdict:
If you have followed all the steps then you can easily control PS3 with Android Device using PS3 Remote Controller App. If you any doubts or problems with this Android PS3 Remote then let me know in the comments area. I will help you "Control PS3 with Android" using "PS3 Remote Control App For Android".