Reasons Not To Buy Hono 10: Honor 10 is the latest flagship from Huawei in 2018. In the design to cameras, Honor 10 handles to stick out in the audience. But something which really makes the handset special is that the existence of an under-glass fingerprint detector. Rather than being on the back or inserted into the home button on the front of the phone, it currently sits on the bottom bezel, but beneath the glass.
No smartphone is perfect in this universe. And same is the case with this honor 10 smartphone. In this article, I present you some of the reasons why you should not buy honor 10 Smartphone.
Reasons Not To Buy Honor 10 Smartphone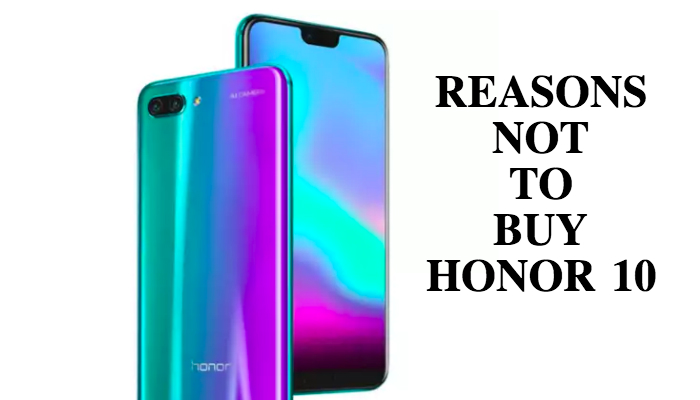 #1. No SD Card
Honor 10 smartphone comes with an internal storage of 128GB. Some people may use a memory card and some may not use. But they should have included an option of choice for the sd card slot.
#2. Single LED flash
The color combinations which we get with dual or quad led flash is highly effective when compared to single led flash. The picture quality will not be that great with single led flash.
Also See: MTK Droid Tools
#3. Notch

Though the notch is slightly smaller than that of iPhone X's notch, still the notch is a notch. Many apps and games are not compatible with the notch so you may feel some difficulty while using it.
#4. No IR Blaster
If you have handled a Xiaomi Phone which has an IR blaster, then you will be dissatisfied after buying the honor 10. Because honor 10 smartphone lacks the IR blaster. You cannot command AC, TV, Projector and other home appliance with the Honor 10 Smartphone.
#5. No Gorilla Glass Protection
Huawei has not specified about the glass protection in the smartphone. If you willing to buy it then you should be used very careful while using it. And you should use it with a protective case and tempered glass.
Also See: Problems of Moto E5 Plus
#6. No Stock Android
Honor 10 is packed with its own Emotion UI named as EMUI 8.1 based on Oreo. This emotion UI is very heavy when compared to the stock android.
If stock android is your priority then you can go with the Pixel 2 or Xiaomi Mi A2 2018 which has google account manager. Or, you can go with One Plus 6 which provides the closer interface of stock android.
#7. Bluetooth 4.2
Bluetooth version 5.0 is the latest bluetooth technology that is present in most of the smartphones launched in 2017 and begining of 2018. Hence, Huawei has provided this BT 5.0 in honor 10 smartphone.
#8.No FM Radio
If you love to listen to fm radio on a smartphone then this smartphone is not for you. In this smartphone, you will not find fm radio connectivity.
#9.Poor Audio Speaker
The audio from Huawei's smartphone is always a drawback. But it can be improved by installing the dolby atmos apk on it.
Reasons To Buy Honor 10
Final Verdict on problems of Honor 10 Smartphone
I hope this post has helped you to realize the cons of honor 10. And all of your doubts concerning the reasons not to buy honor 10 might have clarified. If still, you have inquiries about the honor 10 then mention them in the comments. All the other doubts concerning this smartphone will be clarified in the FAQ's of honor 10. And don't forget to subscribe to this blog for more awesome content.